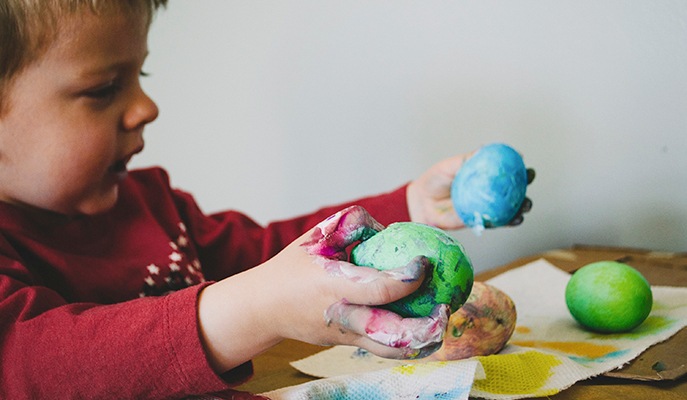 Sensory Play activities are an easy way to engage your child to learn through play.  You will find most  items required in your pantry or around the house.
Sensory play has a positive impact on brain development, aids development of fine and gross motor skills and can be a great stress reliever.  Certain types of sensory play can be calming and assist a child in self-regulation.  It can be especially effective to help calm an anxious child.
Try not to worry too much about the mess and focus more on what your child will get out of the activity.  As long as you have clean up tools (dustpan & broom, wet wipes etc) you should be right!
Here are some ideas for creating sensory play with you child;
Frozen dinosaur eggs – all you need is a packet of balloons, some mini dinosaur figures and water.
Blow up each balloon (just to stretch it out) and let them deflate again.
Put 1 dinosaur in each balloon and then fill with water and tie it off.
Pop them in the freezer and wait until they are frozen
The balloon should peel away easily once you take them out of the freezer.
Your child can now chip away at the egg, watch it melt or work out the quickest way for it to defrost!
NB:  You can use any small animal character you have – sea creatures are also very popular!
Homemade Musical Shaker – items required are plastic or paper cups, uncooked rice or pasta, glue, masking tape, permanent markers or paint.
Decorate the inside of the cups with either paint or the different coloured markers
Once paint has dried (if using) pour some of the uncooked rice or pasta into one of the cups
Use a small amount of glue around the rim of each cup and join together
Once glue is dried you can tape around the join for extra stability (we used masking tape which can be decorated with the markers or more paint.)
Your shaker is now ready to make music!
NB: Plastic water bottles also make a great shaker.